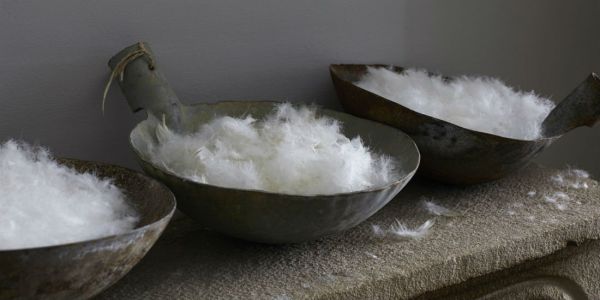 What are the benefits of choosing a natural fill?
The first question you need to ask when investing in a new duvet is: should I have a natural or synthetic fill?
Our natural fillings are made with duck or goose feather and down. These are the traditional fillings which have been used for centuries, and with good reason. They are wonderfully insulating and will keep you feeling warm and cosy - whilst still being breathable.
The average human spends a third of their lives in bed, so you want to ensure you get the very best bedding to enjoy your hours of rest - which is why feather and down are so popular.
Maintaining the right temperature and moisture levels are crucial for getting the very best nights sleep, which is so important for our health and wellbeing.
The soft down clusters provide the insulation, while the feathers add bulk and real substance to the duvet.
What are the advantages of a natural fill?
Down provides ideal conditions for a comfortable sleep
They are light in weight
They offer excellent temperature regulation
The fill will warm you up quickly
It absorbs excess moisture from your body when you sleep to keep you comfortable
Moisture quickly evaporates when bedding is aired
Our natural fill bedding is machine washable so it's easy to care for
Our NOMITE® certified fills are suitable for house-dust-mite-allergy sufferers
Our natural fill is recyclable
A traditional natural fill can provide you with warm, cosy, comfortable and organic bedding for a lifetime for all the family.
Because all our natural fill is NOMITE® certified they are suitable for house-dust-mite-allergy sufferers.
How can this be?
Well, down and feather fill gives us rapid warming up when we are sleeping and quick decrease in humidity when the bedding is aired - and house dust mites rely on high humidity to live. So our NOMITE® certified fills provide very poor habitat for the little mites.

Also, the tight weave of the down and feather-proof fabric acts as a barrier preventing any mites from passing through and offers additional protection.
All our natural fill duvets are luxurious and extremely durable - and machine washable too. And if disaster strikes and you damage your natural fill duvet beyond repair, the fillings can even be composted, making this a greener choice, too.
All our natural fill comes with the Downafresh® trademark of the registered Association of the European Bedfeather and Bedding Industries - reassuring that our filling material complies with the European standard. This means all our down and feathers used are tested at a hygiene laboratory and we can trace exactly where our filling has been produced - so we can ensure it was gathered following animal welfare legislation.
You can rest assured all our down and feathers are ethically sourced from some of the oldest places in Europe where the finest quality is produced - to give you the perfect gift of sleep.