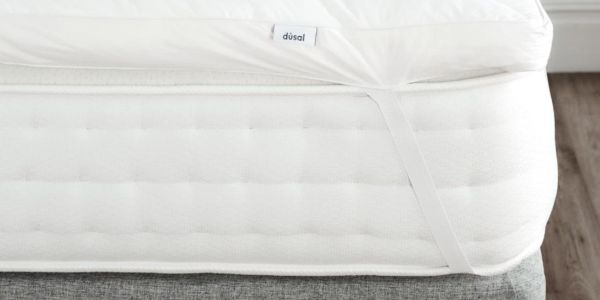 What are mattress toppers?
Quite simply, a mattress topper is a luxurious natural or synthetic filled additional comfort layer that is added to a mattress to increase the longevity and also increase the level of comfort of the mattress itself. As the name states, a topper sits on top of your mattress and underneath your protector and fitted sheet, usually fixing on to your mattress with elastic corner straps.

There are many reasons why people opt for a topper on their mattress, including:
Gives you an extra layer of comfort - Softness or Firmness
Can make an uncomfortable or lumpy mattress more comfortable.
Extends significantly the life of your mattress and improves cleanliness
Can soften a hard mattress significantly
Can easily be added and removed from your mattress to suit your needs
Helps reduce or eliminate the temperature issues caused by Memory Foam Mattresses
Aids in regulating temperature through the night to deliver a better sleep environment
When it comes to finding the perfect topper for your bed you need to think about the size and filling which you will find most comfortable…
Our sizes:
Single
Double
King
Super King
Emperor
When our luxury toppers are first filled the fullness of the fill will pull in the product dimensions slightly but this will level out after a few nights of use.
Our fillings:
Dacron® Comforel®: the comfort of feather and down in a man made non-allergenic alternative. The siliconised ball fibres deliver tremendous recovery and re-loft performance while maintaining a luxury sleep environment and allowing air to move freely..
Duck Feather and Down: a hotel quality filling that you can sink into, this topper provides additional warmth, whilst the pure cotton fabric provides a naturally breathable cover. Feather and down toppers provide a supportive but soft sleep environment and help regulate temperature through the night.
Duck Down Combination: if you're looking for the most indulgent comfort then opt for this luxury topper. It boasts the combination of a top layer of soft down clusters sitting on top a base layer of luxury feather and down. The ultimate in sleep luxury as used by the top 4 & 5 Star hotels worldwide.
Frequently Asked Questions:
How do toppers protect a mattress?
A topper will predominantly protect your mattress from body perspiration and indents which wear and age your mattress. Instead you can simply remove or replace your topper when you no longer want to use it and your mattress underneath will still be in perfect condition.
Can mattress toppers be cleaned?
Yes - For our toppers we would highly recommend the use of a Topper Protector to ensure you minimise the risk of damage. Spot cleaning only using warm soapy water and drying thoroughly is suggested. Our toppers are high quality filled products and not suitable for laundering due to the physical size and weight of the items.
Are all mattress toppers the same depth?
The most common depth of a mattress topper is 2 to 5cms, with some being as thin as 1cm, however we're proud to say that Dùsal toppers are a chunky 7cms in depth. Don't confuse a topper with a mattress pad or a protector as these are different products with different purposes.
Are toppers Non-Allergenic?
All of our Natural and Synthetic toppers are Non-Allergenic and suitable for use by those who suffer with Allergies. Our branded synthetics and cases are Oeko-tex® certified and odourless and non allergenic. Our natural fills are also Oeko-Tex®
certified products and are also NOMITE® and Downafresh® certified ensuring these are also suitable for for use by those who suffer with Allergies.
Let us help...
Here at Dùsal we're different from other online bedding retailers. We want your next bedding set to be special. We have a friendly and knowledgeable team available to talk through our different ranges and help you choose the perfect sleep solutions that are right for you!
Feel free to browse our luxury Dùsal range of mattress toppers on our website, but please do call us on 01592 321 320 should require any additional help.