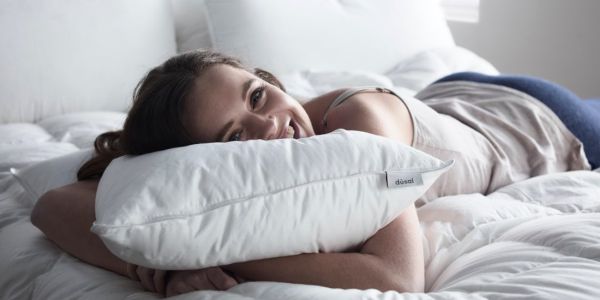 How to pick the perfect pillow
You can climb on to a perfectly cushioned mattress that moulds to your body and snuggle under a fluffy duvet that wraps you up into a warm cocoon…but if you don't have a comfortable pillow to rest your head on then your perfect night's sleep could be a thing of your dreams.
A pillow may seem like a straight-forward purchase, but with many considerations required to reach a final decision on which pillow will help you to sleep easy at night, you may need a little help.
Follow our buying guide here and we'll take you through each consideration step-by-step to help you find the perfect pillow for you.
Consideration 1: What filling should I choose?
To decide upon a filling for your pillow you will first need to decide whether you would prefer to opt for a natural or synthetic fill.
Generally, a natural fill will be soft yet supportive for a variety of sleeping positions, whereas a synthetic filling will be light and warm with easier washing & drying instructions.
Often a deciding factor will be allergy dependent, however all of our fillings are non-allergenic so don't feel restricted in your choice.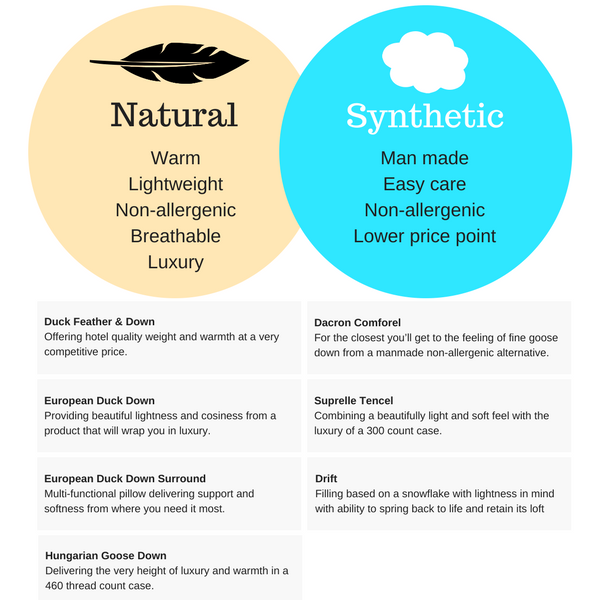 Read more about all of our pillow filling options here in our guide to Dùsal Pillows.

Consideration 2: What will be best suited to the way I sleep?
People can be used to having their pillow choices restricted by the way they sleep; if you sleep on your back you will be looking for a medium fill pillow, if you sleep on your side you may want something a little firmer and if you sleep on your front you may be looking for a softer filling option.
Here at dùsal we don't want you to feel restricted in any way. Buying bedding should be about tailoring products to offer you the most comfort and enjoyment possible, you shouldn't feel constrained by what you can and can't buy. Therefore, you can buy all of our fillings in medium and firm and a good selection in soft.
We've listened to our customer feedback which suggests that softer pillows can often feel too sparse and so we recommend that if you're a front sleeper you opt for a natural fill which are particularly soft, or choose a soft pillow from the range. As soft pillows aren't always as popular as medium and firm fills our soft fill pillows are made to order so please be aware of potential longer lead times for your order.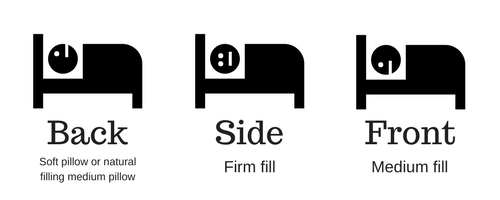 Consideration 3: What size pillows do I need?
The size of your pillows will usually be determined by the size of your mattress. Two standard pillows won't fill the width of a king size bed, and two king size pillow will overhang on a double mattress, so this is usually an easy stage of the buying consideration process.
That said, we also offer a square pillow option too, just to give you a little more food for thought! Square pillows are popular across Europe and many people seek to bring this luxury home with them. As you can imagine, the square pillow will provide a larger surface area and greater width for extra comfort.
Standard – 48 x 74 cm
King Size – 50 x 90 cm
Square – 65 x 65 cm
When making this decision it's worth bearing in mind the limitations you may come across when it comes to choosing bed linen to match. In most cases standard size pillows are sold in even king size bedding sets, so be sure to research bedding sets with king size and square pillowcases available.
Consideration 4: How easy are the pillows to maintain?
You will use your pillow daily and so how easily you will be able to clean it will be an important factor in your decision. After all, this is an investment that should last you for many years to come.
Whilst there is some variation on how to clean your pillows across our range, this comes back to the decision you make on the filling of your pillow as synthetic materials are generally easier to clean than natural fills.
Whilst your natural fill pillow will be able to be washed and tumble dried, although on a low heat, a synthetic fill is renowned for not only being easy to wash but also easy to dry.
Consideration 5: How do the pillow options differ?
Here's an overview of the full range of Dùsal pillows, plus the variety of options available for each including size, fill and price band.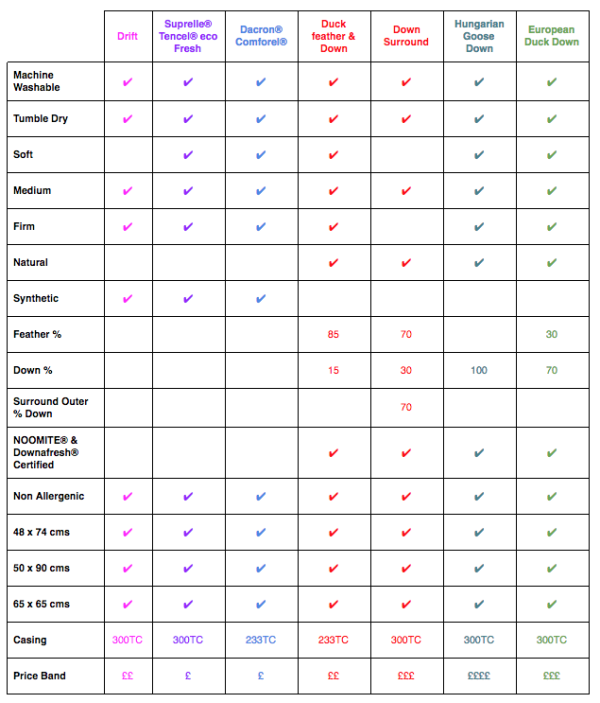 If you'd like to do a little more research before you make a decision on which pillow will be perfect for you, then head to our guide on Dùsal Pillows here.