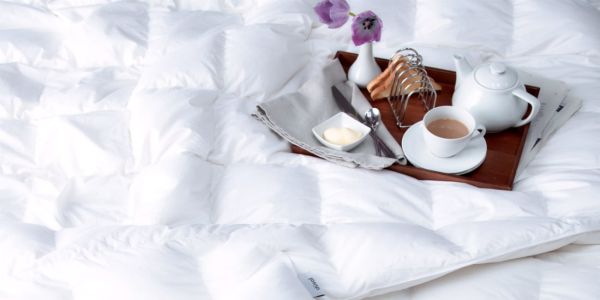 How to recreate that hotel quality feel in your home
Why should you only experience ultimate comfort on a rare getaway to a 5* hotel? A good night's sleep is so important to a person's health and wellbeing, so we think you should feel relaxed and pampered every night of the week.
For more than thirty years we have supplied high-end hotels such as Gleneagles with their bedding and now you can take that luxury home with you through our range of carefully selected products that are available to buy.
Bring hotel indulgence to your own bedroom and sink in to your very own super soft, high-quality bedding. Float away into a deep sleep and feel rejuvenated every day.
Why is hotel quality important?
Hotel products, particularly bedding, are renowned for not only being of the highest standard, but also being the most durable. They're made to withstand countless guest stays and therefore, as a personal investment for your home, will guarantee a long lifespan.
Our full range includes:
Pillows
Dacron® Comforel®
Drift containing Fossflakes®
Suprelle® Tencel® Eco Fresh
Duck and Feather Down
European Duck Down
European Duck Down Surround
Hungarian Goose Down
Duvets
Dacron® Comforel®
Suprelle® Tencel® Eco Fresh
Duck Feather and Down
European Duck Down
Hungarian Goose Down
Mattress toppers
Dacron® Comforel®
Duck Feather and Down
Duck Down Combination
Dùsal bedding comes in a range of synthetic, feather & down fillings which are all non-allergenic and is hand-filled and lovingly double stitched by our own production team in Scotland giving a luxurious and durable finish to our sought-after products.
We want to ensure that our customers can unwind in the sanctuary of their beds. We care about delivering quality products through exceptional workmanship and expert craftsmanship, and this is why we have become recognised for our attention to detail by some of the country's best hotels and their customers.
Why Dusal aren't just another bedding supplier!
Here at Dusal we're different from other online bedding retailers. We want your next duvet purchase to be special. We have a friendly and knowledgeable team available to talk through our different ranges and help you choose the perfect bedding solution that's right for you!
Feel free to browse our Luxury Dusal Bedding online, but please do call us on 01592 321 320 should you require any additional help.
Invest in your own comfort with Dùsal… where sleep is delivered.