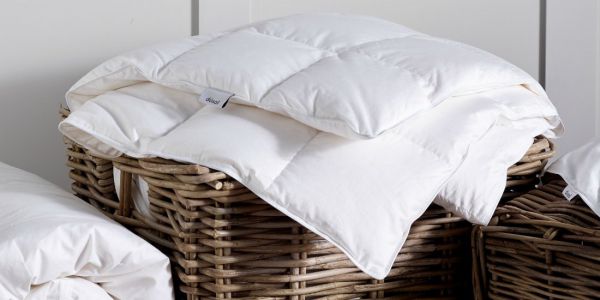 5 things to consider before choosing a duvet
Knowing which duvet will let you sink into the dreamiest of sleeps isn't always straight-forward.  There are many factors to consider in ensuring you can drift away soundly night-after-night.

So, here's an easy buying guide for you to follow, and step-by-step you can narrow down the choices to find a duvet that's made for you.
Consideration 1: What filling should I choose?
Firstly, you need to decide whether you would prefer a natural or synthetic filling.  A natural, feather and down, filling will give you a light and luxury warmth, whilst a synthetic filling will be more durable and long-lasting.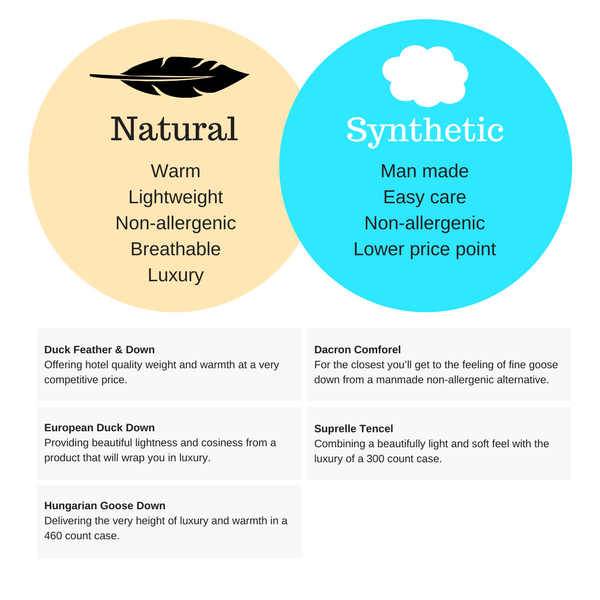 Dùsal bedding is unique as both our natural and synthetic fillings are non-allergenic, so you don't need to feel restricted in your choices. Our
natural products are certified NOMITE® and Downafresh® which means they are suitable for those who suffer with dust mite allergies or Asthma.
Find out about all of our filling options here in our guide to Dùsal Fillings Explained
Consideration 2: How much do you want to spend?
It's hard to put a price on a good night's sleep, but if you can set yourself a budget it will certainly make your shopping easier.
Costs can range dependent on the size, filling and casing of the duvet, so as you move through this duvet guide have a price range in mind and it will help you to navigate through the various filling and finish options available.
££
Ranging from £45 to £315
Dacron Comforel or Duck Feather and Down


£££
Ranging from £60 to £435
Suprelle Tencel or European Duck Down
££££
Ranging from £120 - £684
Hungarian Goose Down
Here's a reminder of the full range of Dùsal fillings available.
Consideration 3: How warm do you need your duvet to be?
When it comes to warmth the key word to look out for is 'tog'. A tog rating indicates the warmth of the duvet and will be one of the next decisions for you to make once you've decided on the filling.
Consider the temperature of your room, how warm are you generally when you sleep and how your room temperature varies season-to-season.

Bear in mind that all seasons duvet options are available too. These comprise of two individual duvets clipped together to be made warmer or lighter dependent on the season.
If you're still unsure which tog would be best suited for you, take a read of our guide to Dùsal Duvet Togs.
Consideration 4: What size duvet are you looking for?
This may seem like an obvious question, but you may not want to match your duvet size to your mattress size, so it's a consideration for you to make.
Many people actually opt for a duvet that is one size larger than their bed frame so that it hangs nicely over the end of the mattress, creating a beautiful drape effect. It also avoids the tug of war over the duvet cover at night!

All Dùsal duvets come in single, double, king, super king and emperor sized so there's plenty of choice for you once you've decided on your filling and tog.
Consideration 5: How easy is it to maintain?
Once you have an idea of the perfect duvet for you, the final check is if you're clear on how best to look after it so that it was be a long-term investment for your home.
All Dùsal duvets can be washed and tumble dried and in some cases they can also be dry cleaned. In most cases a duvet will be too large to fit in your washing machine at home so instead use our guide to Are Dùsal products machine washable?, to inform you of your laundering options.
If you're looking for a long-lasting and durable duvet then it's likely that you will have opted for a synthetic filling as they are renowned for a fantastic recovery to washing. But, if you're opting for a natural filling don't worry, your duvet can still be washed and dried or dry cleaned you just need to be mindful of washing temperatures and drying methods.
What about pillows?
Now you've got a good idea what duvet suits your needs, the next step is to head over to our Pillow Buying Guide to complete your luxury bedding set.
If you would like advice on which duvet or pillow is correct for you please do call us on 01592 321 320 should require any additional help.
Here at Dusal we're different from other online pillow and duvet retailers. We want your next duvet purchase to be special. We have a friendly and knowledgeable team available to talk through our different ranges and help you choose the perfect duvet that's right for you.