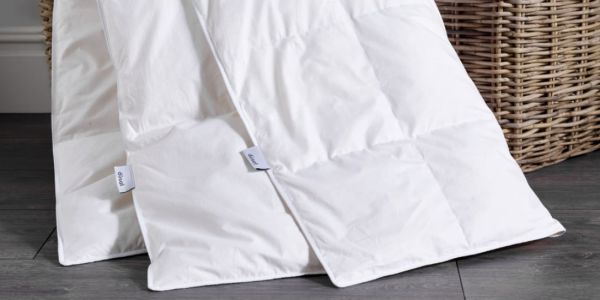 Are dusal products machine washable?
Whilst the comfort of bedding is a key factor in making a purchase, it's also important to research how durable each will be.
How long will it last, how easy it is to clean and how will the fabrics withstand cleaning? These are all considerations you should make when buying new bedding.
Duvets, pillows and mattress toppers should be high-quality products; you use them daily and rely on them for comfortable night's sleep which is vital to health and wellbeing.
Therefore, bedding is, and should be, an investment. To strike the right balance consider the comfort, quality and longevity of the product before you place your order.
As with all bulky bedding products that are suitable for laundering, there must be at least 40% empty space in the drum to allow the product to move and recover during washing and drying process. Items should not be dragged from the washing machine drum when wet as this will cause irreparable damage to these luxury items. Drying should be on a low setting for a prolonged period to ensure the items are thoroughly dry and items must be removed from the dryer immediately they are complete.
Here's your guide to our range of fillings and their durability to help guide that all important purchase decision:
Duck Feather and Down
This cosy filling offers a weighty feel due to its blend of fine soft white feathers and fluffy down clusters. It can be machine washed but must be at 40° or less. It can be tumble dried, but on a low setting until thoroughly dry. This product is NOMITE® Downafresh® certified.
European Duck Down
This filling epitomises luxury with warmth delivered through the lightweight down clusters and soft curled feathers. As you might expect this filling is to be cleaned with care, however it can be machine washed at 40° or less and tumble dried until thoroughly dry.  This product is NOMITE® Downafresh® certified.
Hungarian Goose Down
Whilst being one of our more indulgent filling options this choice will last you for years to come with an impressive fill of Hungarian goose down clusters. This filling can also be washed at 40° or less and tumble dried until thoroughly dry.  This product is NOMITE® Downafresh® certified.

Dacron® Comforel®
One of the best synthetics on the market, this filing is a popular choice with due to its fantastic recovery, even after repeat washes. This is a Hollow-fibre Siliconised ball fibre which provides a lofty and light structure and retains excellent warmth through its lifetime.
Suprelle® Fresh Eco Tencel®
 
This high-quality synthetic filling is super soft and breathable with a beautiful 300 thread count cotton case. The microfiber and tencel® blend washes very well and is quick-drying too.   This fibre is a 3D Crimped technology with Tencel® fibres to provide excellent moisture wicking to help in providing a comfortable sleep environment.
Drift
This pillow filling is a popular product because of its ability to spring back to life and retain its loft, even after repeat washes. Wash at 40° and after a tumble dry and a quick shake it will be quick to dry and recover perfectly every time. This is a soft supportive pillow filling and provides excellent temperature management as well as moulding to your neck for added support. Drift contains Fossflakes® from Denmark, which is renowned for its excellent comfort and longevity as a pillow filling.
View our full range of luxury bedding on our website to find out more about the products, tog options and sizes which range from single to emperor in duvets, toppers and protectors, and standard to square in pillows.
Here at Dusal we're different from other online bedding retailers. We want your next duvet purchase to be special. We have a friendly and knowledgeable team available to talk through our different ranges and help you choose the perfect duvet that's right for you - call us today on 01592 321 320.