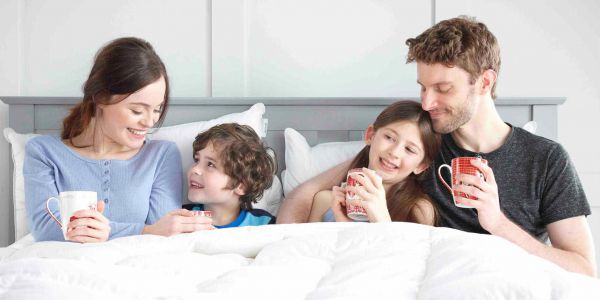 5 ways to have a calmer Christmas
As the festive season approaches and the Christmas parties, family 'get-togethers' and your 'to-do list' seems to be taking over your life, it can feel very overwhelming.

Christmas time may be the greatest time of the year but it can also be the most stressful. From making sure you get everyone the right presents to balancing seeing every family member, it can feel like you have no time to yourself.
So, if you're feeling stressed this festive season, keep your cool and carry on with these 5 top tips on how to slow down and enjoy a calmer Christmas.
1. Take time for yourself
Carve some time out in your diary, lock yourself away from everyone and curl up with a cup of tea, a festive book and breathe.
You can even try some breathing exercises to help calm yourself.
Four counts in. Six counts out.
Sounds simple, and it is, but it's effective as well. If your brain is feeling a bit all over the place, then this is a trick for you to try.
2. Go and sleep
Here at dùsal we think a great night's sleep is a pretty big deal. Cosy-up with one of our Winter duvets and try and be in bed for 10:30pm.
Our body goes into a state of repair between 10:30pm and 2:30am and, if we're awake too late, we put stress on ourselves as we start to release cortisol.
Give your body the chance to recover from the festive period to help you feel better and make the most of the season!
Still struggling to catch some Zs? Check out our blog on 7 common sleep mistakes and how to solve them.
3. Be thankful
Christmas time is a time to be thankful for the people around us and the year that we've had. It's not always easy but there are a lot of mental and physical benefits to being a little bit more thankful.
It increases your positivity as you're forcing your brain to be optimistic and see the best of situations and it can reduce your stress levels - and there's no better time to de-stress than around the bustling festive period.
Stressful situations can even produce negative emotions which can manifest itself through your mental and physical health.
By writing down things you're grateful for, it can switch your mindset from negative to positive and reduces your stress.
4. Go on a winter walk
Changing up your environment and getting some fresh air can help clear your head in a stressful situation.
A brisk walk boosts your endorphins which helps your mood and reduces stress, leaving you in a calm state.
Whether it's taking your dog for a walk, walking alone, or going for a day out with family, take yourself on a calming winter walk to enjoy the wintery landscapes and breathe in the fresh air.
5. Find your festive routine
As humans, we relish when we have a routine. The festive season can often cause chaos with all the changes however finding a new, festive routine can help reduce stress.
Embrace a good old fashioned list to help prioritise everything. Whether it's presents you need to buy or food you need to get write it all down so you can plan your time easier.
It doesn't even have to be a strict routine which you must stick to. Make sure the night before you have a plan for the next day so you know where you are, what you need and when you need it by.
Embrace the festive season, don't forget to sleep and have a very Merry Christmas!