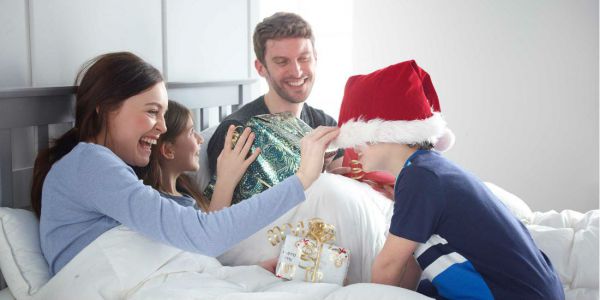 5 steps to a merrier Christmas and a happy 2020
The decisions and plans you make now can make this festive season and new year fun, enjoyable and affordable. Here are our 5 steps to a merry Christmas and a happy, prosperous New Year
1. Be realistic with your time, money and energy
At this time of year, there are invitations to school performances, drinks parties, pantomimes... the list goes on. However, you still only have 24 hours in a day, there are still only seven days in the week and unless you're the lottery winner, your budget isn't going to become limitless overnight!
Not over committing is the secret to having a good Christmas and prosperous New Year.
When you are invited to an event, stop and think:
Have I got time to do this?
Can I afford to do this?
Do I want to do this?
If you can say yes to all three, do it. Remember, you do have a choice!
2. Manage expectations
There are so many images of the 'perfect Christmas' around us from advertisements and movies on TV to shop window displays. You don't have to have the biggest tree, turkey or pile of presents to have a good Christmas.
Throwing your hard-earned money away isn't going to guarantee an amazing Christmas, however, it will leave you with less in your bank account for 2020. Now is the time to act to ensure you don't start the New Year in debt.
When you stop aiming for the 'best Christmas EVER', you will give yourself the chance to have a good time.
The pressure to have a merry Christmas increases the pressure and stress on people. The mental health charity mind has shared tips on how to manage festive stress.
3. Your time and attention is the greatest gift you can give
Don't make the Christmas dinner so extravagant and complicated that you spend all Christmas day in the kitchen. Your family and friends would rather spend time with you than have potatoes cooked five different ways!
Look at ways of reducing the workload. Would a shop bought Christmas pudding be such a bad thing? Would anyone mind if the peas or sprouts were from the freezer? MumsNet has some great tips on cutting down the work and still having a great Christmas meal.
Another way to reduce the work is to share out the chores - make preparing the dinner a family event. Get the kids to lay the table, Uncle Joe peeling potatoes, Aunty Sally making the gravy.....doing things together could become your Christmas tradition.
This way you can start the New Year ready for all the opportunities 2020 has to offer, rather than exhausted.
4. Take time out
As the kids get even more excited as you hit Christmas Eve, planning a treat such as a visit to the cinema to see the Christmas release - Elsa may just be able to keep their attention on the big screen and you can have at least an hour just sat down, in a darkened room!
Or make a long Christmas Eve walk your tradition - the exercise in the fresh air will help the kids (and you) get a good night's sleep before what can be the longest day of the year!
5. Give a Christmas Eve box
This is a new Christmas tradition that has sprung up in the last year or two - giving a pre-Christmas box to keep the kids happy.
The beauty of a Christmas Eve box is that you can fill them with whatever you like and give them to whoever you like, as long as they suit your Christmas Eve needs – that could be food and drink orientated, a plan to get the children to go to sleep early, or everything Santa needs on his arrival into your home.
But don't bankrupt yourself buying more things for the Christmas Eve box. Remember, you don't have to spend a fortune on this; carrots for Rudolf and jar of hot chocolate from the kitchen cupboard, a letter from Santa and those winter PJs you had to buy because they had grown out of last years and an 'I promise to read you your favourite bedtime story' note from you or their favourite movie DVD from the bookshelf.
The BBC guide to how to make a Christmas Eve box will inspire you. This is a great way to help wind-down the kids and get them in bed early on Christmas eve. It's worth a try!
Enjoy a happy Christmas and 2020!